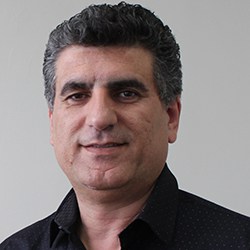 Mehran Moghaddasi
Owner, Registered Physiotherapist
Mehran Moghaddasi is a registered physiotherapist, in good standing with College of Physiotherapists of Ontario. He is a member of Canadian and Ontario Physiotherapy Associations and has over 22 years of experience working with private, hospital and geriatric settings. Mehran has attended several refreshment studies and post-graduate programs in specialized manual therapy, Low back pain, shoulder injuries, sport injuries, post-op total knee and hip replacement, pain management, custom orthotics, and treatment of musculoskeletal, orthopaedic and neuromuscular condition. He has extensive years of management experience in both academic and rehabilitation fields in Canada and abroad.

Languages Spoken
English, Farsi
Tayser Zoubi
Resident Physiotherapist
Tayser Zoubi graduated from Glasgow Caledonian University with a Masters of Science in Physiotherapy after completing his Bachelor of Kinesiology at Brock University. Tayser carries a passion for movement and rehabilitation that stems from his background in sport. Although well versed in sports rehabilitation, his research focus involved garnering an improved functional outcome for patients coping with chronic pain, autoimmune disease, and general orthopaedic complaints. Tayser is a strong proponent of life-long learning and hopes to further his understanding of the human body through research involvement and further study. Tayser's approach to patient care is multifaceted and is conducted with the goal of patient empowerment. Patients can expect 1-on-1 evidence-based treatments that typically involve education, manual therapy, electrotherapy and exercise interventions. He plans to further expand his practice by advancing his skills in manual therapy and acupuncture.

Languages Spoken
English, Arabic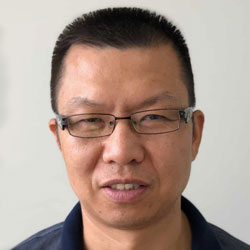 David Zhuang
Registered Massage Therapist
David Zhuang graduated from The Sutherland-Chan School and Teaching Clinic. He is knowledgeable in a range of different techniques such as: Swedish Massage, Myofascial Release, Sports Massage, Deep Tissue Massage, Trigger Point Therapy, Manual Lymphatic Drainage, Remedial Exercise, and Joint Mobilization. In his experience, he has treated a wide variety of conditions, such as Headaches and Migraines, Stress Relief, Sports Injuries, Repetitive Strain Injury, Pre and Post-Natal Care, Back Pain, Strain and Sprain, and Chronic Pain syndromes. David is passionate about helping his clients achieve a healthier lifestyle and improved self awareness.

Languages Spoken
English, Mandarin, Cantonese
Chiropractors, Acupuncturists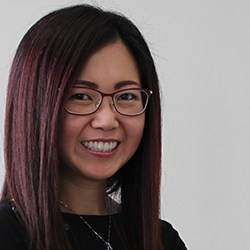 Dr. Katherine Siu
Chiropractor, Acupuncturist
Dr. Katherine Siu graduated from the Canadian Memorial Chiropractic College as a Doctor of Chiropractic with Magna Cum Laude and Clinic Honors. Prior to chiropractic, she received an Honors Bachelor of Science degree in Life Science from the University of Toronto. She is a certified clinical acupuncture provider and is trained in soft tissue therapies such as myofascial release & guasha.

Dr. Siu is dedicated to helping her patients live better and reach their health goals. She uses a variety of treatment protocols that includes chiropractic manipulation/mobilizations, myofascial release techniques, and exercises/stretches, she provides patients of all ages with safe and personalized care. She uses collaborative, patient-oriented and evidence-based approach to tailor her patients' needs.

Languages Spoken
Cantonese, Mandarin, English Learn More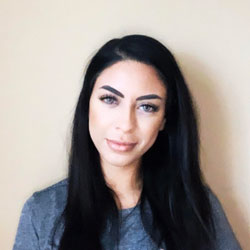 Chiropractor, Clinical Acupuncture Provider
Dr. Ledia Attia holds an Honours Degree in Health Sciences specializing in Human Kinetics from the University of Ottawa. She went on to pursue her Doctor of Chiropractic Degree from the Canadian Memorial Chiropractic College. In addition, Dr. Attia became certified in Contemporary Medical Acupuncture through McMaster University.
Ledia utilizes a combination of treatment approaches including neurofunctional acupuncture, muscle release therapy, instrument assisted soft tissue mobilization, cupping therapy as well as rehab exercise to achieve your goal. Dr. Attia's focus lies in identifying and correcting deficient movement patterns for optimal performance. She is passionate about providing evidence based; functional solutions that keep you doing the things you love.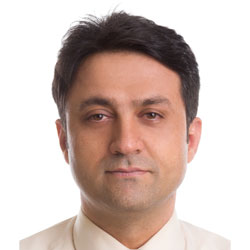 Mahdi Shiravi.
Registered Manual osteopath,
Mahdi Shiravi is a registered Manual Osteopath, graduated from NAO, Toronto, Canada. He is an active member of ACMA, a well-known osteopathy association. He has a master's and a bachelor's degree in physiotherapy from the Medical University of Tehran, Iran, with more than 20 years of experience in physiotherapy and manual therapy in Iran. Mahdi is very interested in hands-on treatments and has attended specialized manual therapy courses since 2001. He has experience working with a wide variety of patients, including orthopedic, Neurologic, sports injuries, headache, breathing difficulties, and digestive system diseases. .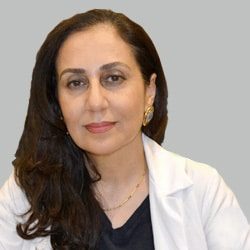 Nasim Rezania
Registered Chiropodist
Nasim Rezania is a registered chiropodist (Foot Specialist) with the College of Chiropodists of Ontario, The Canadian Federation of Podiatric Medicine (CFPM), and the Ontario Society of Chiropodists (OSC). Nasim received her Bachelor of Science in Tehran University of Medical Sciences. She attended the Michener Institute of Education by UHN where she completed her post-graduate studies in Chiropody. She is passionate to make a difference in patients' lives by keeping them mobile and pain free.

Languages Spoken
English, Farsi
Sports injuries
Work-related injuries
Neurological Condition
Post- Surgical Orthopedic
Motor Vehicle Accidents
English
Cantonese
Mandarin
Farsi
Arabic
Visa
Mastercard
Interac
Cash
Cheques