YORK MED PHYSIO | PHYSIOTHERAPY

At the York-Med Physiotherapy, our experienced therapists treat a wide variety of conditions, including orthopedic/musculoskeletal system disorder, Neurologic, sports injuries, headache, Pre and post-operation surgery after fractures, total knee and hip replacement, ACL/MCL ligament, and meniscus injuries. We also tend to target shoulder injuries like rotator cuff and frozen shoulder. We address acute sports injuries, arthritis, sprain/strains, and inflammation in different joints/tissues. We treat Back pain, including disc herniation or symptoms related to sciatica, neck pain, spinal conditions, and much more.
Our therapists use comprehensive, evidence-based methods that include joint and spine mobilization/manipulation, diverse soft tissue release techniques, therapeutic exercise, and neuromuscular re-education along with electrotherapy-related modalities. We have invested in technology and provide innovative therapy to facilitate your recovery. Whether you are recovering from an injury or want to make sure that you are fit to play, we are here for you.
Manual Therapy and Mobilization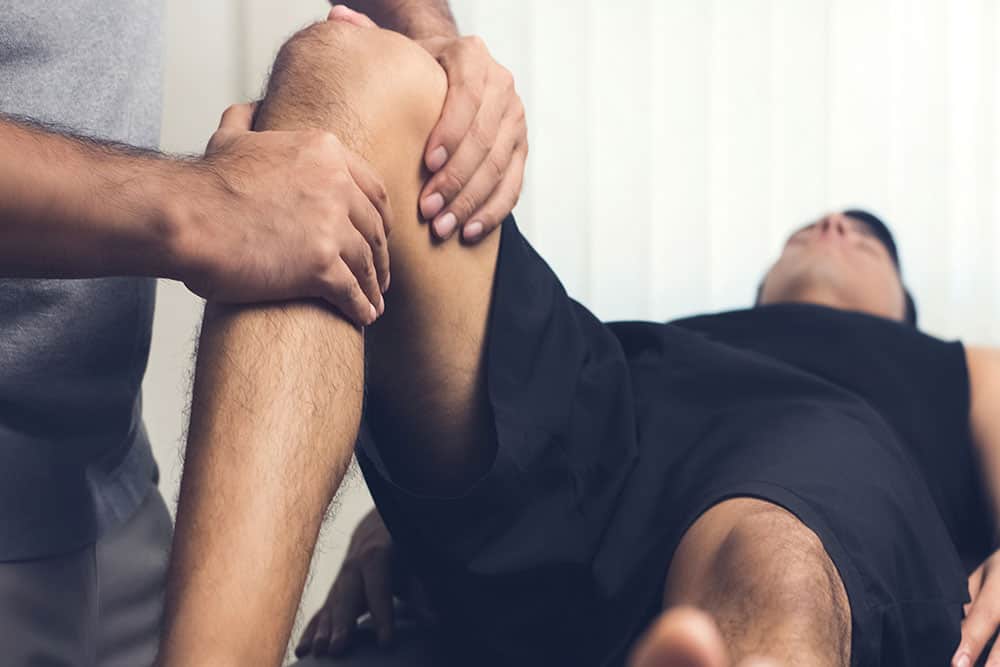 Manual therapy is the skilled application of passive movement to the joint or the soft tissue surrounding it, within (Mobilization) or beyond (Manipulation) the joint's active range of motion. Manual therapy can be applied to joints, tendons, ligaments, muscles, or nerves to reduce pain and increase the range of motion and quality of joint/tissue movements. It also tends to improve nerve mobility, increase muscle flexibility and restore normal function.
During your assessment and treatments, you will ask specific questions related to your injuries. We will perform multiple special and selected tests to ensure that manipulation or mobilizations are a safe and appropriate treatment choice. We will inform you of the techniques and potential side effects before treatment inception. Our therapists have undergone specific post-graduate studies/courses in advanced manual therapy to ensure accurate and sufficient implementation of new techniques in treating injuries and their underlying causes.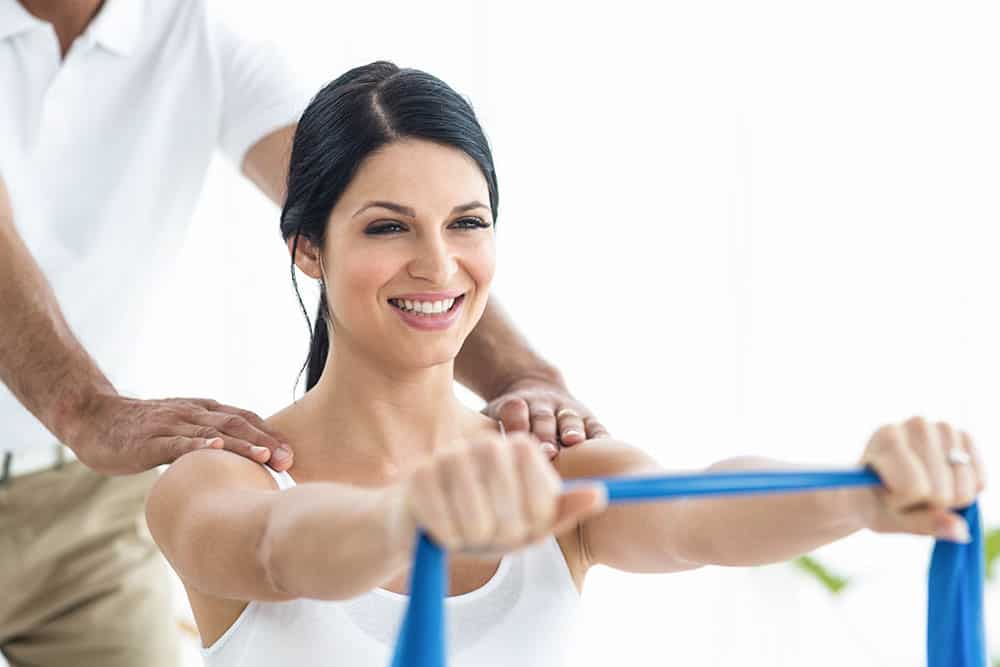 Extensive medical research has shown that therapeutic exercise promotes healthy recovery of the damaged musculoskeletal and neuromuscular systems following injury or disease. At York-med physiotherapy, our approach is an active and evidence-based practice to treat your injury and return you to optimal function as soon as possible. Therapeutic movement and exercise are fundamental elements of our treatment programs as we believe that active treatment and exercises are one of the most effective methods in restoring function, ability, and independence. Along with electrotherapy and functional rehabilitation programs, manual therapy encompasses our strengths. We want our patients to be active participants in their recovery.
For this reason, we encourage you to do your exercises in the clinic so we may guide you if necessary. Following a full assessment, our therapists will prescribe and carry out the proper application and progression of each exercise program specific to the individual and injury. Our goal is to empower you to take care of your recovery with an appropriate home exercise program.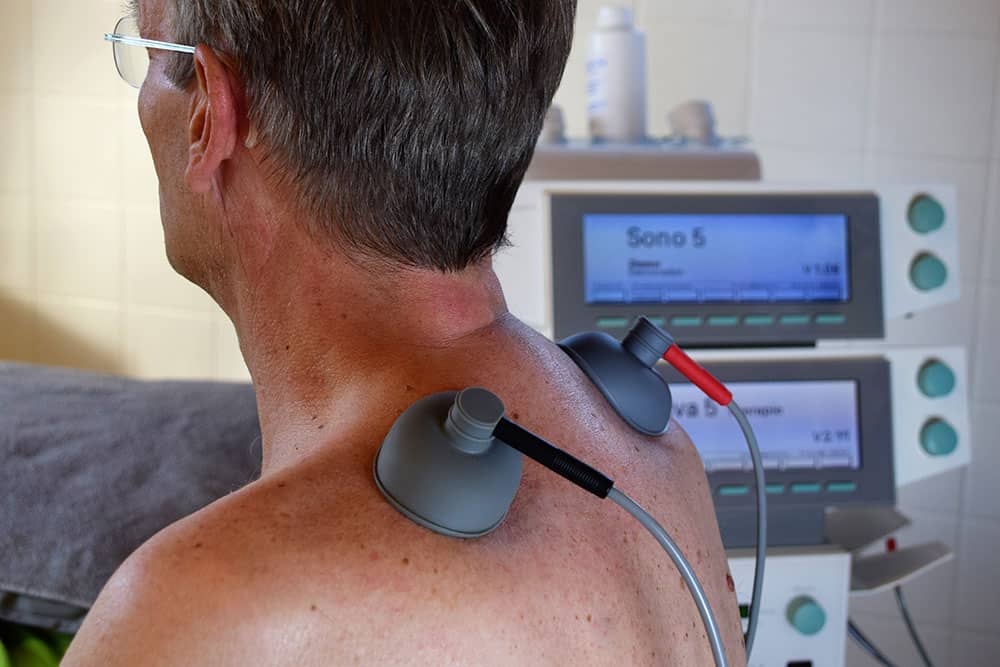 Electrotherapy may stimulate tissue healing; reduce pain and swelling, and restore normal muscle and joint function. In other words, Electrotherapy includes a range of electrical stimulations by using different electrical modalities to reduce pain, improve circulation, repair tissues, strengthen muscles, and promote healing to enhance the function of our tissues.
The electrical stimulations can block the transmission of pain signals reaching the spinal cord and brain (gait control theory). They also stimulate the body to produce more natural pain-relieving chemicals like endorphins.
Electrotherapy is a safe, on-invasive and non-toxic method to treat chronic and acute conditions compare with the side effects of chemical medications. Medication may damage our liver, kidneys, stomachs and make our brain fogy, but Electrotherapy not. The most common side effect with Electrotherapy is skin irritation or rash, but they should be used under the supervision of a physiotherapist. It is crucial to consider the indications and contraindications of Electrotherapy treatments before treating patients due to possible serious risks if we use them wrong.
We should not use Electrotherapy to treat symptomatic local pain unless the cause of the pain has been clearly diagnosed.
The most common electrotherapy modalities use for therapy are:
TENS, IFC, Ultrasound, laser and shockwave. 
Cancer, pacemaker, pregnancy, infections or severe inflammations; the existence of metal in the body ports depend on the modality are some of the contraindications of using Electrotherapy treatments.
Shockwave therapy, also known as Extracorporeal Shockwave Therapy (ESWT), is a non-invasive
modality that uses high-energy sound waves that penetrates the affected area. The short bursts of the
sound waves create micro-bubbles which then expand and burst, further stimulating the cells in the
body that are responsible for tissue repair and remodelling, ultimately decreasing pain and improving
functionality. ESWT is typically used in chronic tendinopathies such as Achilles tendinopathy, plantar
heel pain, tennis/golfers' elbow, and calcific tendinitis of the shoulder. Our clinic offers state-of-the-art
technology ESWT offered by Chattanooga.
Laser therapy uses red/infrared lights over injuries to promote soft tissue healing and helps to relieve
pain. The high energy from the light helps to promote and accelerate physiological changes that occur at
the cellular level to help further alleviate swelling, pain, and inflammation. Laser therapy is commonly
used to treat general chronic pain, rotator cuff injuries, osteoarthritis of knee/hip/ankle and many other
musculoskeletal injuries. Laser therapy is a safe and effective modality commonly used in conjunction
with other physiotherapy interventions. Our clinic offers state-of-the-art technology laser therapy
offered by Chattanooga.
The Most Common Electrotherapy Waveforms
Russian or functional faradic stimulation:

The Russian Current waveform is a type of electrical stimulation that delivers medium frequency current in alternating pulses or bursts of energy to reduce pain and increases muscular strength.
High Voltage Pulsed Current (HVPC):
High voltage current may achieve deeper tissue penetration making it more effective in facilitating wound healing and relieving muscle spasms.
Interferential (IFC):
Interferential waveforms work at a higher frequency and address chronic, post-surgical and post-trauma acute pain in patients.
Transcutaneous electrical nerve stimulation (TENS Electrotherapy):
TENS treatment involves using a mild electrical current with a frequency less than 10Hz to 150 Hz that reduces the pain.
Premodulated IFC:
Premodulated waveforms use a single channel to mix the high frequencies before delivering the current through the electrode to treat smaller muscle groups, joints, and injuries closer to the skin.
Microcurrent:
Microcurrent waveform utilizes micro-size, pulsating current to resonate with the body's bio-electrical exchanges that take place at the cellular level, making it more comfortable for patients and is useful in treating the wound and damaged tissue.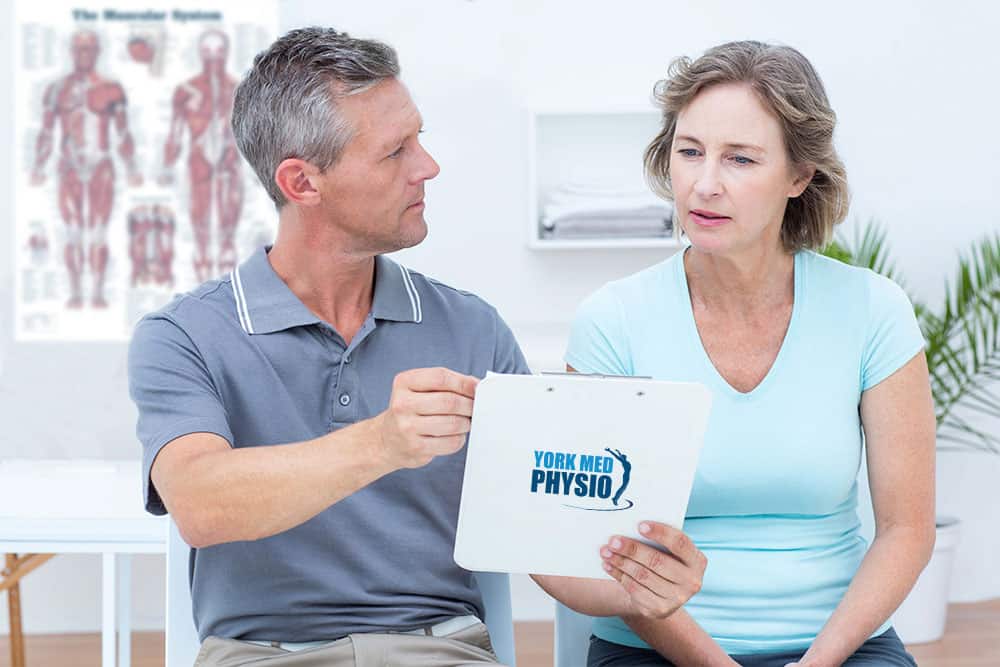 Education is at the forefront of our practice at York-Med. Learning about your body/injury are the first and most crucial step in the rehabilitation process. You can be sure that you will be informed and educated in every step of your assessment and treatment. We believe in empowering you through education to prevent re-injuries and faster recovery; there are no wrong questions regarding your health. Searching the internet is a good starting point to learn about the nature of your injury, but it is not a reliable source for self-diagnosis and treatment. Therefore, it is vital to seek a healthcare professional to assess your condition and provide a personalized treatment plan specific to your individual needs.
Spinal Rehabilitation:
Manual & Manipulative Therapy

Postural Evaluation

Individualized Exercise Programs

Spinal Decompression
Children and Adolescents:
Exercise for muscle imbalance/scoliosis

Postural Evaluation

Individualized Exercise Programs
Post MVA Rehabilitation:
Acute Care

Conditioning Programs

Rotator Cuff Injuries/Frozen Shoulder
Orthopedic conditions / common sprains and strains
Tennis Elbow

Sacroiliac Joint Problems

Knee: Ligament Injuries, Runner's Knee

Foot & Ankle: Ligament Injuries
Sports Injury Rehabilitation:
Acute Care

Taping and Bracing

Return to Sport

Foot & Ankle: Ligament Injuries

Rotator Cuff Injuries
Knee: Ligament Injuries, Runner's Knee
Senior Citizens / Arthritis
Arthritis & Osteoarthritis

Fitness Programs to improve deconditioning

Balance & Fall Prevention
Post-surgical rehabilitation/ joint replacement
Overuse injuries

Post-op Care for Joint
Miscellaneous:
Tennis Elbow

Sacroiliac Joint Problems
Pre & Post Pregnancy

Deep Tissue Massage

Fibromyalgia

Orthopedic Injuries